In today's post, we're providing you with all the details about the two Zunder Ultra-Fast Charging Stations in Mutilva, Navarra. These are two identical locations situated alongside the PA-30 motorway (Pamplona ring road) as it passes through the capital of Navarre. Each of these ultra-fast charging stations is positioned in opposite directions of traffic, ensuring that they are accessible regardless of the direction you are traveling.
These two Charging Stations will serve as a significant reference point for electric vehicle travelers heading to or from France, as well as those journeying between the Cantabrian coast and Catalonia. What are your thoughts on this location? Feel free to share your experiences with us on our Social Media using #ChargingHero⚡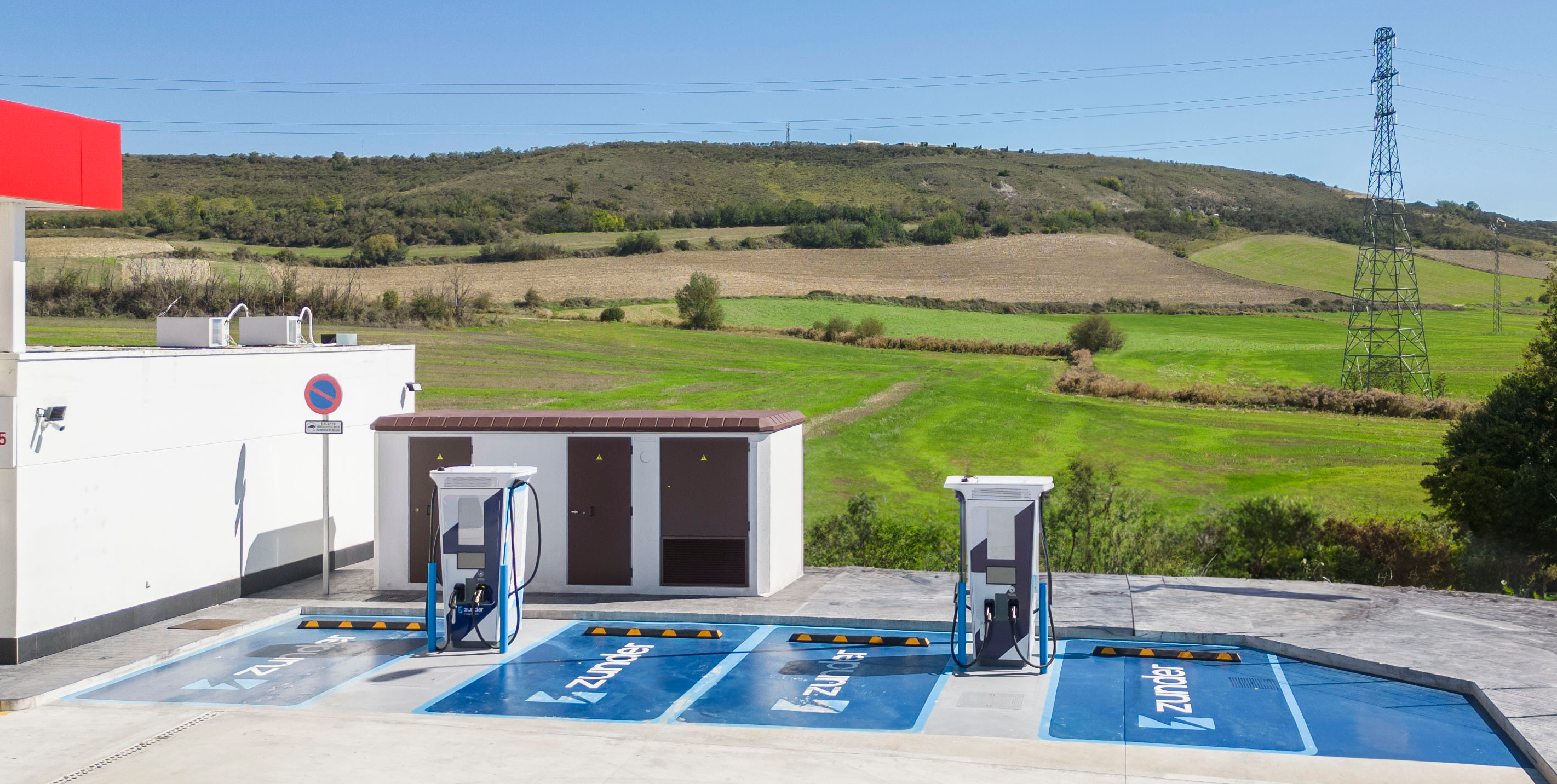 Zunder Charging Station in Mutilva (heading towards France)
Location of the Zunder Charging Stations in Mutilva, Pamplona As mentioned earlier in this post, the Zunder Ultra-Fast Charging Stations in Mutilva are situated individually along the PA-30 motorway, precisely at kilometer point 4 of this road. Electric vehicle drivers in Pamplona will have convenient access to these locations, as they are just 3 kilometers away from the center of Pamplona.
Strategically positioned, these two charging stations are set to become the go-to stop for travelers moving between France and Spain along this route. On a national scale, these Ultra-fast Charging Stations in Mutilva will enable seamless electric vehicle travel from Zaragoza or Huesca to San Sebastian.
Please remember that you can initiate GPS navigation to any of these charging stations using the Zunder APP. Simply select the station on our map and click on "How to get there" at the bottom of the screen.
Additional Services at the Charging Stations
Both of these charging stations are co-located with petrol stations, ensuring that you'll find a range of services just a short distance from our charging stations. These services include a shop, a cafeteria, and WC with extended opening hours. You'll also have access to car pressure washing services on-site.
As always, at our locations, your needs will be well taken care of during your brief stop.
What Charging Power Can I Expect for My EV Here?
These two Ultra-Fast Charging Stations are designed to rapidly charge the batteries of your electric vehicle in just a matter of minutes It's worth noting that both Charging Stations are identical. Each station is equipped with 4 charging points, allowing you to charge up to 8 electric vehicles simultaneously across both stations.
You'll find 8 charging points in total (4 per station) with CCS connectors and a maximum charging power of up to 180 kW. Additionally, all charging stations offer the Plug&Charge functionality, which automatically initiates a charging session when you connect your electric vehicle to the charger, eliminating the need to interact with the Zunder APP.
Both charging stations are well-lit, ensuring the safety of your charging experience at any time of the day. To prevent misuse of our charging stations, we have installed appropriate signage, allowing only electric vehicles currently undergoing charging to utilize these stations.